One of my biggest achievements in MtG / Magic Arena just happened a couple of days ago: after two attempts in Mai and June to make the Mythic Top 1200 in Constructed, I finally made it! This would have not been possible without the help of one of Magic's greatest players: Raphael Lévy.
He came up with the beautiful Magda Gruul Deck that he had piloted to make the Top8 at the recent Strixhaven Championship. I had found out about his Twitch Channel, when I was randomly surfing the web to get some inspiration about interesting standard decks. Soon, I was fascinated by the mechanics in the deck as well as by the complexity of mastering it.
I don't think that I have ever played any Magic deck more often than Magda Gruul, and I am still far from mastering it, but I got better. Game after game, and I must have played hundreds of them since April, made many mistakes but found out about the nuances, some key decisions that you have to make in order to win more often, get the % up.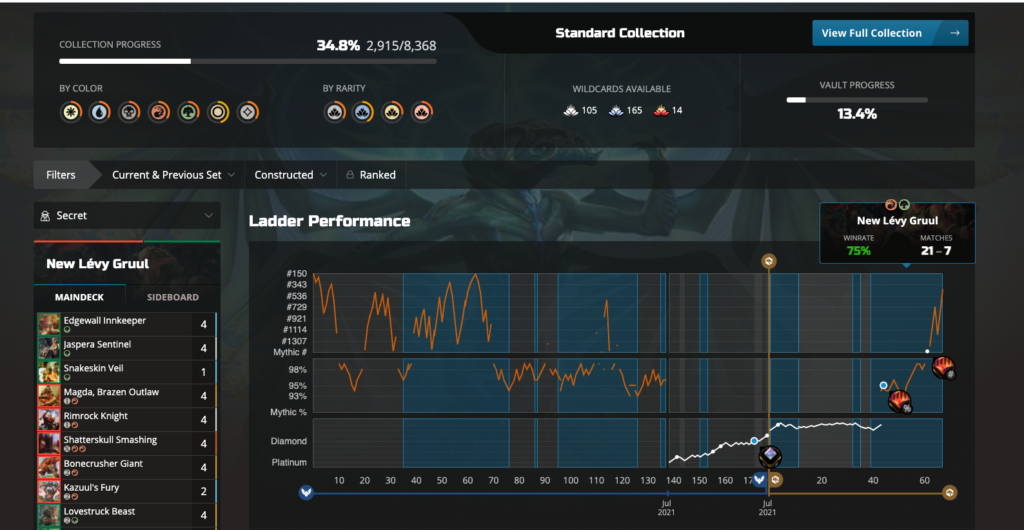 What helped me most, was getting coached by the master himself: Raphael offers coaching sessions via metafy, and I can highly recommend his lessons, if you really want to improve at MtG / Magic Arena. It makes a huge difference to understand, where your flaws are, and were you need to adjust your thought process.
I am very thankful for my probably biggest achievement so far in my whole "Magic career". I had started to play in 1998, just around the time, when Exodus had been released. After some tournament play, I actually never made day 2 in a Grand Prix (it was close twice, and I played 7-8 GPs so far) and failed to make German Nationals by lacking 1 mere point to qualify, I had "resigned" from playing the game more than 10 years ago.
Nowadays, I really enjoy a good match on Magic Arena, and it even helps me a lot to reflect on my businesses or find ways to come up with new strategies and creative ideas. Playing MtG is not just a pastime to get some distraction from work, it is pretty synergetic, I think. With the new options you can find through Magic Arena, metafy, twitch, discord etc., the game has changed a lot – and also the knowledge & data collections that come with them.
So, let's see how I will go at my first Qualifier Weekend on August 7 and hopefully August 8, in case a make day 2. I would have to go 7-2 on day one, and then at least 7-2 on day two to qualify for my first Championship attendance which is probably comparable to the former Pro Tour format. Still very a far way to go but I will certainly try my best and most importantly, enjoy the learning process.